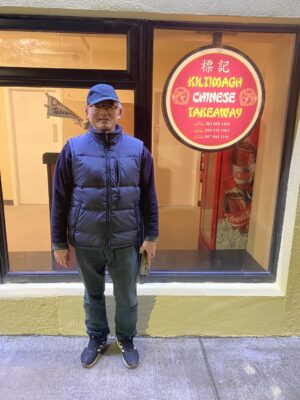 Project: Dibond Signage, Kiltimagh Chinese Takeaway, Co. Mayo
Client: Kiltimagh Chinese Takeaway
It's not often I write a note about my customers but in this instance, I felt compelled. We have just created all of the signage and Menus for this gentleman's new Chinese Restaurant. Meet Billy who is opening on Main street Kiltimagh this week. Firstly I would like to mention that this gentleman is one of the nicest people I have ever dealt with in business. Since I met him, Billy always a smile and a laugh – he has a lovely way about him. Unlike many previous Chinese restaurants in the town – Billy has personally invested in the building he is planning to run the new restaurant which is the old paper shop on Main Street. He has invested a lot of money in a brand new kitchen, oven, stoves and fridges and a storage area so the venture is a big risk for him especially in these most strange of times. I do feel like Billy will become one of Kiltimagh's locals within time given a chance and I would like to take this opportunity to wish him well and thank him for his business and I know the good people of the town will give him a turn.
Best of luck to Billy and his new Restaurant.
This is a Dibond sign with a vinyl covering and an LED-lit sign. These signs are for external use and they are a very hard-wearing, durable and weatherproof signage. If you want to advertise your business in a more cost effective and visually striking way why not call us on: 094 938 2000 or email us: info@signwest.ie.