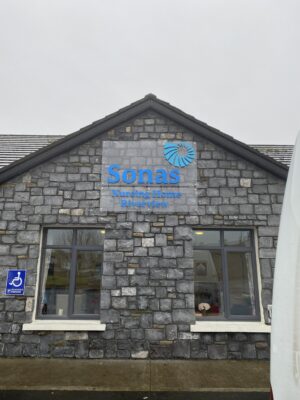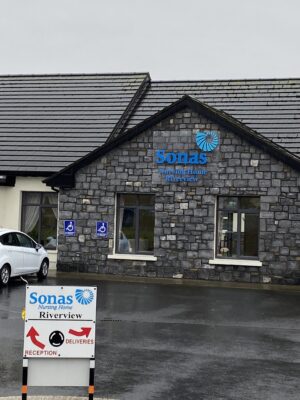 ---
Project: Nursing Home Signage
Client: Sonas Riverview Nursing Home, Mallauns, Ballina, Co. Mayo
Here is some Signage that Designwest recently created for Sonas Riverview Nursing Home, who are based in Mallauns, Ballina, Co. Mayo, Ireland. Sonas Riverview Nursing Home is along the banks of the rushing River Moy in the heart of Ballina, Co. Mayo. This state of the art facility was purpose-built in 2017 and welcomes residents seeking a high standard of person-centered care in a homely environment.
Riverview Nursing Home offers an alternative to independent living, one that prioritizes a meaningful quality of life for residents and promises peace of mind to their families.
The benefits of outdoor signage is that is draws attention, sparks interest, claims the location and advertises your company. Outdoor advertising is effective because it can drive sales, prevents lost business and reaches people where they are. Custom outdoor signage cuts through the noise of notifications and ads on digital devices. There are many types of different outdoor signage and it is important to chose the right one that fits your brand.
These are hard enamel 3d letters that are mounted on a perspex sheet. These signs are for external use and they are a very hardwearing, durable and weatherproof signage. If you want to advertise your business in a more cost effective and visually striking way why not call us on: 094 938 2000 or email us: info@signwest.ie. Alternatively, fill out the contact form here.