Pull Up Banner for Ballinasloe Credit Union: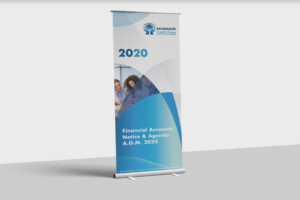 Project:
Pull Up Banner – Ballinasloe Credit Union, Co. Galway
Client: Ballinasloe Credit Union, Co. Galway
This is a pull up banner for Ballinasloe Credit Union in Co. Galway.
Roll Up Banner Stands
They are also known as pop-up banners or roll-up banners. Pull up banners are ideal for exhibitions, events and trade shows. Roll up banner stands are ideal if you are looking to make an impact at a trade shows or exhibitions or even at your own location.
With our in-house graphic design service and wide format digital printer we can create high quality, creative and cost effective pull up banners very quickly.
A pull up banner is a portable backdrop which consists of a retractable pull up graphic and a base unit that allows the graphic to roll into and out of – hence the name pull up or roller banners.
If you want to promote a new product with a point of sale display stand, or need to bring out the big guns at trade exhibitions, try our pull up roller banner printing service.
They are designed for repeat use and can even be reskinned to last even longer but there so cost effective they can be bought for single time use.
Pop up banners and Pull up banners will get you noticed when you need to stand out from the crowd in a busy environment.
We print high quality, vibrant roller banners displays in a range of sizes and varieties.
The banners then roll down into their stand so they're super easy to store in your office.
It's a great way to draw attention to your booth or display, especially when you're working a crowded room.
For more ideas on exhibition signage or pull up banners, don't hesitate to talk to our experienced team for advice.
Therefore they are perfect for businesses that prefer a modern look and lively, relaxed approach.
With its simple, sleek frame and vibrant display, pull up roller banners are a quick and convenient way to draw the attention of prospective customers.
They are very cost-effective, eye catching, easy to use and easy to store between events.
If you are looking for banners for your company contact us at 0949382000 or email us at signs@signwest.ie.