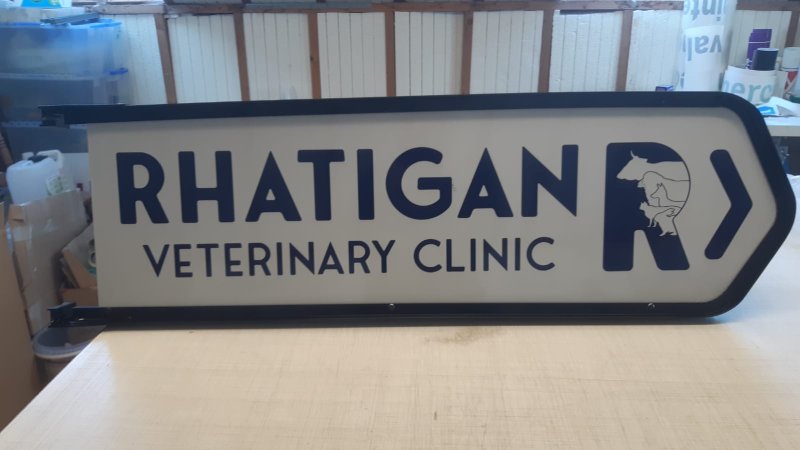 The Importance of Outdoor Signage in Ireland: A Closer Look at Signwest's Expertise
In the bustling lanes and serene landscapes of Ireland, outdoor signage stands as a silent ambassador of businesses. They are the first impression, a beacon, guiding customers and marking presence in a competitive market. And at www.Signwest.ie, we have mastered the art of creating signs that make this impression both memorable and effective.
Take the recent project we did for Rhatigan Vets, based in the scenic city of Galway, Ireland, as a case in point. Our experienced team took on the challenge of providing them with effective outdoor signage that not only directed potential clients to their door but also reflected the quality of service they offer. We created a robust, outdoor finger post directional sign, reflective to ensure visibility during those foggy Irish days and nights. Crafted from heavy-grade metal, this sign is designed to stand the test of time, braving the elements without fading or rusting.
But our commitment to excellence doesn't stop at mere utility. Aesthetics play an essential role in our creations. We complemented the outdoor signage for Rhatigan Vets with an A3 door sign. Made of high-quality Perspex, the sign features reverse printed vinyls and elegant stand-off fittings. A testament to our dedication to details, this sign seamlessly integrates with the surroundings while effectively conveying the brand message.
Speaking of brand, the new branding for Rhatigan Vets was brought to life by our talented designers over at www.designwesT.ie. This collaboration ensures that the outdoor signage we create not only serves its functional purpose but also aligns with the brand's vision and ethos.
So, why is outdoor signage so crucial for businesses in Ireland?
1. Visibility: In a market brimming with competition, visibility is paramount. A strategically placed, well-designed sign can effectively capture the attention of passersby, turning casual observers into potential customers.
2. Branding: Outdoor signs serve as a continuous branding exercise. They reinforce your brand's image, message, and presence in the minds of both existing and potential clients.
3. Cost-Effective: Unlike recurring ad campaigns, a one-time investment in quality outdoor signage offers long-term visibility and brand promotion.
4. Directional Purpose: Especially for businesses located off the main streets, directional signs, like the one we designed for Rhatigan Vets, ensure that customers can easily locate them.
5. First Impressions: They say the first impression is the last. An effective outdoor sign can set the tone for what customers can expect inside. A well-maintained, quality sign often correlates with quality services or products offered within.
At Signwest, we cater to a diverse range of outdoor signage requirements across Ireland. Every business is unique, and we pride ourselves on delivering customized solutions that cater to individual needs while emphasizing quality and design.
With the blend of experience, dedication, and talent, we are committed to ensuring that your business gets the visibility and branding it deserves. Outdoor signage is not just a sign; it's a statement. Make yours with Signwest.